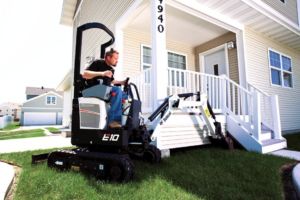 Construction projects of all sizes often involve challenges related to property spacing limitations. When space or access is limited, using the right equipment makes all the difference. Fortunately, our new Bobcat E10 allows us to easily access and work in tight spaces without damaging or altering your property. 
Designed with maximum productivity in mind, our Bobcat E10 can efficiently move around your residential or commercial property with minimal impact and hassle — with no additional excavation needed.
The Bobcat E10's rubber tracks offer more versatility for a wide range of construction projects. Unlike other excavators, these tracks are made to comfortably maneuver around your property without causing visual or structural damage to grass, driveways, fences, trees and flower beds. No matter your ground conditions, you won't have to worry about a deep impact on your yard or driveway after the job is done.
When it comes to raising or repairing a foundation area, tail swing — or lack thereof — means everything. That's why our qualified team of professionals use compact excavators with zero tail swing to provide you with peace of mind as we navigate around your property.
Whether you live in an urban area with close neighbors or just need to navigate around your new deck, fencing or patio, our excavators will get the job done safely and quickly. We can even work around standard gate openings for fenced-in yards by reducing our tracks to a 30" width.
It is vital that the constrators you choose bring the right equipment to handle the job. With the additional company that can only offer labor with handheld equipment, upgrade your pier renovation experience with the right installation machine.
For more information on our new Bobcat E10 from the experts at Innovative Pier Solutions, please contact us here or call us directly at 616.304.3727.